All Saints and St Richard's Churches, Crowborough
Light Party 2022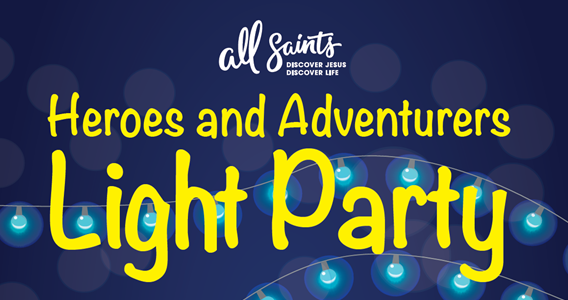 Tuesday, 1 November 2022

4:30pm - 5:45pm

All Saints Church Downstairs Halls
About
Join Heroes and Adventurers Annual Light Party!

Celebrate with us as we enjoy an alternative to Halloween, with bright colours, bright lights, lots of fun and good news about Jesus the light of the world!

1st November 4.30pm until 5:45pm
For any child in primary school (reception to year 6).

When the children arrive they will be directed into three groups (reception with years 1 & 2, years 3 & 4 and years 5 & 6), where they will get to know each other through some fun activities. As a whole group we will then get together, play games, enjoy some glow in the dark fun and hear about Jesus, before going back to our small groups to pick up our party bags and crafts.

Come wearing bright colours, no scary costumes please!

If parents/ family members would like to stay there will be cake and drinks in the Hope Cafe during the whole event.
Info This event has now passed.